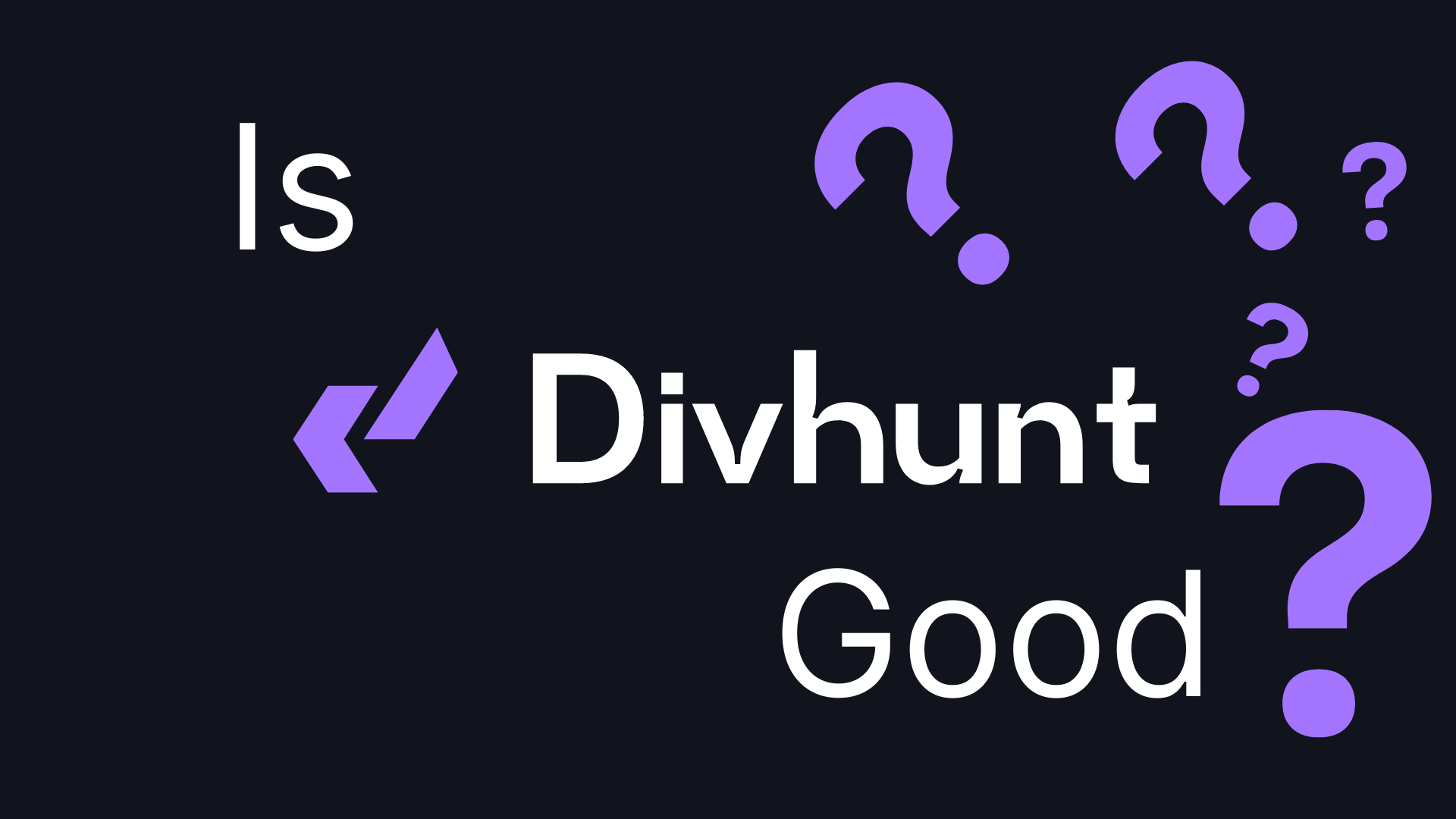 Is Divhunt Good? A Comprehensive Review of Divhunt Web Builder
Building a website from scratch can be a daunting task, especially if you're not a tech wizard. But thanks to no-code web builders like Divhunt, creating a professional and feature-rich website has never been easier. But the key question remains, is Divhunt good? In this comprehensive review, we'll explore the features, pricing, user experiences, and more about Divhunt to help you decide if it's the right web builder for your needs.
What is Divhunt?
Divhunt is a no-code web development tool that allows users to create stunning websites without any coding skills. It promises to simplify the process of website creation with its intuitive interface and impressive features, making it a game-changer in the world of web development.
Who Is Divhunt For?
Divhunt is best suited for:
Developers seeking a code-free web development solution.
Marketing agencies and web design agencies looking to streamline their website creation process.
Non-technical users who want to create their own website without coding skills.
Key Features of Divhunt
Drag-and-Drop Interface: Divhunt features an intuitive drag-and-drop interface that allows you to easily add and arrange elements on your website.
Speed: With a focus on fast performance, Divhunt provides almost zero refresh time and quick page loading.
CMS (Coming Soon): Divhunt plans to introduce a content management system (CMS) that will allow users to manage collections, items, and fields within their projects.
Image Compression: Divhunt includes built-in image compression capabilities to ensure fast loading times for your web pages.
Live Preview: With Divhunt, you can instantly preview your site in a real environment without the need to publish it.
Limitless: Enjoy the freedom of creating unlimited collections, items, and fields in your projects.
Repeater: Divhunt's repeater feature allows you to create multiple items following a common structure, perfect for lists or cards.
REST API: Utilize Divhunt's flexible REST API to populate your CMS and connect with external databases.
Global Collections: Create collection items that can be referenced anywhere on your site, such as logos or text variables.
Unlimited Collaborators: Divhunt allows you to add unlimited collaborators to your projects at no extra cost.
Divhunt Pricing
Divhunt offers a free lifetime plan to start with and build your website using all features until you're ready to go live. Their paid plans range from $5/month for a portfolio plan to $108/month for a business plan, designed for companies where their website is crucial to their success.
Divhunt also currently offers a lifetime deal starting at $59. This deal unlocks all features and includes unlimited collaborators, a staging domain, and many more features.
User Reviews
User reviews of Divhunt are overwhelmingly positive. Users commend the platform's intuitive interface and extensive customization options. They praise its fast performance and loading times, and many are excited about the value offered by the lifetime deal. Users appreciate the active and responsive developer community, although some mention a need for a more advanced CMS and more varied pricing tiers to meet different user needs.
Comparison With Similar Tools
In comparison with similar tools like Bubble, Webflow, and WordPress, Divhunt has made its mark in the web development industry. It may not have the long-standing reputation of WordPress or the vast design flexibility of Webflow, but its user-friendly features and affordability make it an attractive choice for many users.
Final Verdict
In conclusion, Divhunt is a robust web development tool that makes the process of creating a website accessible to everyone, irrespective of their technical skills. Its user-friendly interface, advanced features, and competitive pricing make it a worthy consideration for anyone looking to build a feature-rich website without the hassle of coding.
From our research and analysis, it's safe to say that Divhunt is not only good but a game-changer in the world of web development. Whether you're a developer, a marketing agency, or just someone looking to build a personal or business website, Divhunt offers a blend of simplicity and power that is hard to match.
Comparing Divhunt with Other Software Solutions