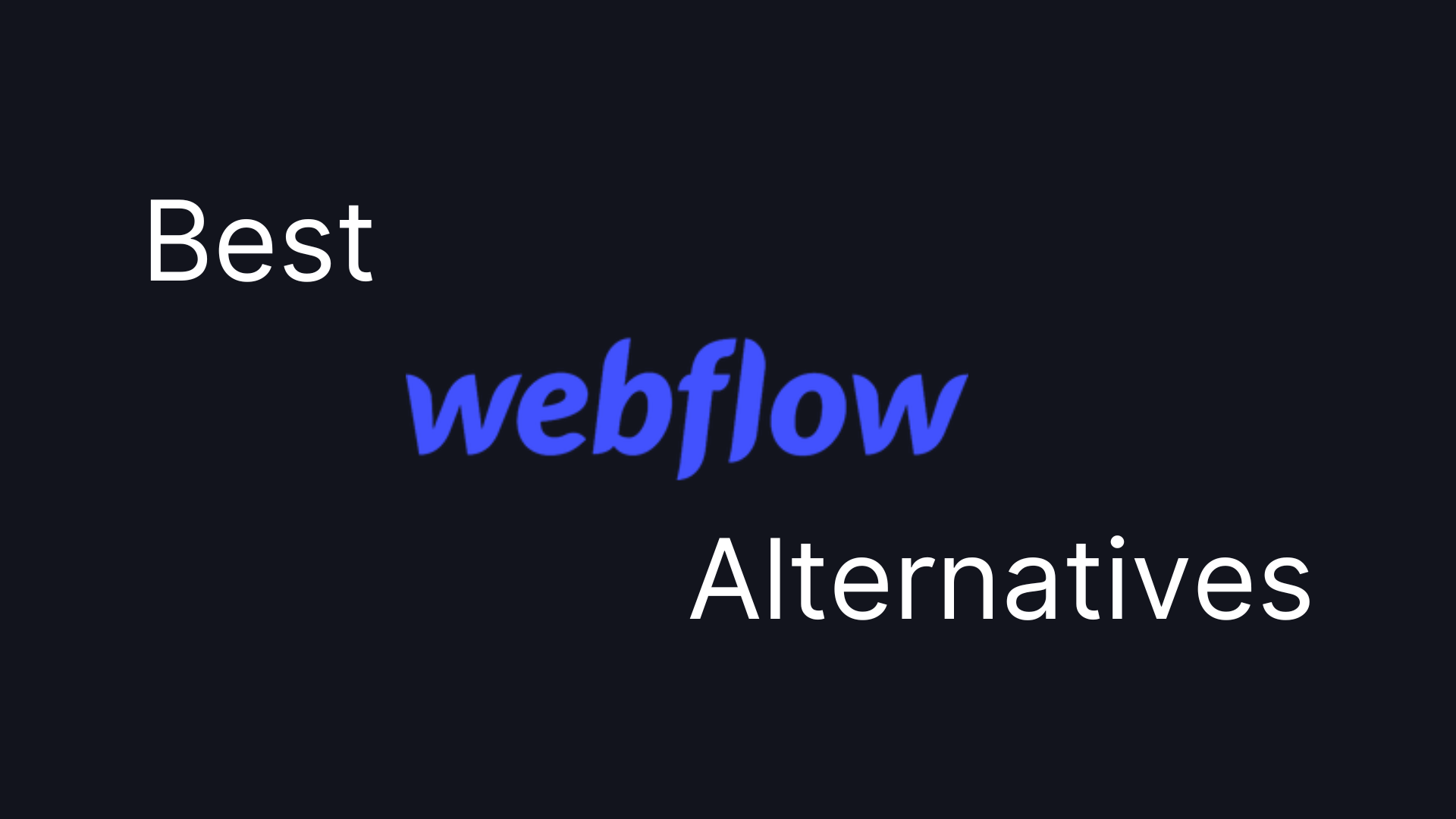 Webflow Alternatives: Discover the Best Platform for Your Needs
Webflow has quickly gained popularity as a robust website builder, offering a wide range of features, including drag-and-drop functionality, and the ability to add custom code for a more personalized website experience. However, its steep learning curve and high pricing may not be suitable for everyone, particularly beginners or those on a budget. This is where Webflow alternatives come into play, offering similar functionalities, but often with a more user-friendly interface and affordable pricing.
One such alternative that has been gaining traction recently is Divhunt. In this post, we'll delve into why Divhunt, along with several other platforms, may serve as excellent substitutes for Webflow.
Divhunt: The All-in-One Solution for Small and Medium Businesses
Divhunt is a no-code web development platform that has been lauded for its user-friendly interface and impressive capabilities. Designed to simplify website building, Divhunt offers an intuitive interface that makes website creation an easy and enjoyable process, even for beginners.
Key Features of Divhunt
Drag and Drop: Allows you to easily add and arrange elements on your website.
Speed: Focused on fast performance, Divhunt provides virtually zero refresh time and quick page loading.
CMS (Coming Soon): Soon, Divhunt will introduce a content management system feature, allowing users to manage collections, items, and fields within their projects.
Live Preview: Enables you to instantly preview your site in a real environment without publishing it, ensuring your changes look perfect before going live.
Unlimited Collaborators: Divhunt allows you to add unlimited collaborators to your projects at no extra cost.
Divhunt as a Webflow Alternative
Divhunt comes across as a strong competitor to Webflow due to its ability to offer both no-code and custom code routes, depending on your preference. This gives Divhunt an edge over Webflow, as it provides the best of both worlds.
The ability to visually drag-and-drop elements, but also add custom CSS and code, makes Divhunt a versatile tool for both beginners and experienced developers. Plus, with a responsive support team and a wealth of resources available on YouTube, learning and troubleshooting become much easier.
WordPress.org: An Open-Source Website Builder
WordPress.org is a free and open-source content management system that powers over 40% of all the websites on the Internet. It's a flexible platform that offers thousands of themes and plugins, allowing you to customize your website to your heart's content.
Key Features of WordPress.org
Open-Source: This means you have full control over your website and its data.
Extensive Plugins and Themes: With over 55,000 plugins and 8,000 free themes, WordPress.org offers a variety of options to customize your website.
SEO-Friendly: Built-in SEO features help optimize your site for search engines.
WordPress.org as a Webflow Alternative
WordPress.org provides unlimited access to all features and allows for unlimited collaborators, making it ideal for both individual projects and team collaborations. The transparent pricing and the ability to fully explore WordPress.org without any financial risks make it a viable alternative to Webflow.
Wix: An Intuitive Website Builder for Beginners
Wix is a popular website builder known for its user-friendly interface and wide range of templates. It's an excellent choice for beginners who want to create a professional-looking website without having to learn to code.
Key Features of Wix
Drag-and-Drop Interface: This feature makes it easy for you to create and design your website.
Wide Range of Templates: Wix offers over 500 professionally designed templates.
Advanced SEO Tools: Wix provides comprehensive SEO tools to help your website rank higher on search engines.
Wix as a Webflow Alternative
Wix's intuitive interface and extensive collection of templates make it a great alternative to Webflow for beginners. It offers similar functionalities as Webflow but is much easier to use, making it a popular choice for those with little to no coding experience.
Shopify: A Robust Ecommerce Platform
Shopify is a leading eCommerce platform that allows you to set up an online store and sell your products. It's a great alternative to Webflow for businesses that want to focus on eCommerce.
Key Features of Shopify
Ecommerce Tools: Shopify offers a range of tools to help you manage your online store, including inventory management, SEO, and marketing tools.
Themes: Shopify provides a variety of professional themes, allowing you to create a beautiful online store that reflects your brand.
Shopify as a Webflow Alternative
If your main aim is to sell products online, then Shopify is a great alternative to Webflow. It offers more sophisticated eCommerce tools, enabling you to manage your online store effectively.
Conclusion
While Webflow is a great tool for building websites, it's not the only option out there. Depending on your needs, budget, and technical expertise, there are several Webflow alternatives that may be a better fit for you.
Whether you're a small business owner looking for an all-in-one solution like Divhunt, a beginner seeking an intuitive platform like Wix, or an entrepreneur wanting to create an online store with Shopify, there's a Webflow alternative out there for everyone.
FAQ
Q: Why is Divhunt considered the best Webflow alternative in 2023?
A: Divhunt is a superb Webflow alternative because it offers a comprehensive suite of website-building tools, including a drag-and-drop editor that allows you to build high-quality, professional websites without needing to know HTML and CSS. You can also access a wide variety of design tools, including free stock images and integration options, such as Google Analytics. Unlike Webflow, Divhunt even provides a free plan, making it a more accessible option for many users.
Q: How does Divhunt compare against other best Webflow alternatives like Squarespace and Weebly?
A: Divhunt competes strongly against other best Webflow alternatives such as Squarespace and Weebly. Its user-friendly platform and robust design tool set it apart. Additionally, Divhunt offers more flexible free plans compared to Squarespace and Weebly, allowing you to try the platform without any financial commitment.
Q: Can Divhunt replace WordPress as a Webflow alternative?
A: Divhunt is an excellent choice for users looking for a website builder that offers similar capabilities to WordPress. It offers features such as plugin integration, custom domain, and a user-friendly builder that allows you to create high-quality websites, much like WordPress but with a more intuitive interface. However, unlike WordPress, Divhunt is a no-code website builder, making website creation even simpler.
Q: Can Divhunt help me build my website as efficiently as Webflow?
A: Absolutely. Divhunt, as a renowned Webflow alternative, allows you to efficiently build your website using a drag-and-drop website builder. You also have many web design tools at your disposal, and the ability to use custom domains, just like you can find in Webflow. Moreover, Divhunt offers a free plan that is just as efficient.
Q: How does Divhunt fare when it comes to free website building, as compared to Webflow?
A: Divhunt shines in this aspect. While Webflow offers a free version of their platform, Divhunt's free plan offers an even more compelling value. It provides a robust toolset that empowers you to create professional websites and landing pages without any investment, which is not an option with Webflow's free version.
Q: Is it easier to build a website using Divhunt than other builders like Webflow?
A: Yes. Divhunt uses a drag-and-drop editor that makes website building more intuitive compared to builders like Webflow. This powerful, no-code website builder simplifies the website creation process, allowing you to build visually stunning and professionally looking websites with ease.
Q: How does Divhunt handle analytics compared to Webflow?
A: Divhunt handles analytics remarkably well. With the integration of various tools such as Google Analytics, you can easily track and analyze your website traffic. This makes Divhunt a formidable competitor to Webflow, offering similar analytics capabilities at a more affordable price tag.
Q: Does Divhunt offer better domain name options than Webflow in 2023?
A: Divhunt offers a broad range of domain name options, making it a strong contender against Webflow in 2023. Additionally, Divhunt's free trial and free plan also come with the option to attach a custom domain, something you don't typically find with Webflow's similar offerings.
Q: Does Divhunt allow me to create landing pages similar to Webflow?
A: Indeed, Divhunt has an excellent landing page builder. Much like Webflow, Divhunt gives you the tools to create attractive, high-converting landing pages. The platform provides a drag-and-drop editor, along with many design tools and a stock imagery gallery, to help you design the perfect landing page.
Q: Is there a more open-source solution that will let me create a web design like I can using Webflow in 2023?
A: Divhunt, as a Webflow alternative, stands out in supporting open-source elements which let you create more customized web designs. While Webflow offers robust design tools, Divhunt's more flexible and accessible approach to web design makes it an excellent choice for users seeking more control over their web design process without the restrictions of paid plans.
Comparing Divhunt with Other Software Solutions